Bells, gongs and drums seen on recent trips abroad
The search for bells is not limited to the place were I live (Germany).
Following are a few examples of my recent travel activities to beautiful
countries.
xxxxxxx
December 2016 to January 2017 I travelled again to South America. The
Celebrity Infinity passed through the Panama Canal and then following the coast down
south to the end of the world (USHUAIA). An amazing place and for the people
living there it is the beginning of the world! Fabulous cities all along the way and
final destination BUENOS AIRES - another highlight of this voyage.
BUENOS AIRES with LOVE
The cruise ended in one of my favorite towns - Buenos Aires.
It is one of the few world capitals were I feel completely comfortable
and happy. For me it is a city full of charm in all aspects -buildings, monuments,
culture, tango, streets, people ...... and so much more! Of course it is impossible
to transfer what I feel through pictures ONLY - at least I can try.
 xxxxxx
In December 2015 a cruise took me from Venice to Buenos Aires. Venice is the ideal
starting point for such a trip and December the best month to travel because the weather
for us "Northern" people is the beginning of a long and cold winter season full of rain and
darkness.
These are a few images of the beautiful sunny places on our way by the
MSC POESIA to South America.
XXXXXXX
This time I show only a few photos of our long cruise on the MS SPLENDOUR of the SEAS
and let you guess which places we visited on this splendid voyage in 2014.
Following are only a few impressions of the fascinating people, incredible monuments
and numerous bells during a recent trip to Cambodia, Laos and Thailand.
It is already December 2013 and the year is coming to its end.
I just returned from my latest trip that took me to some of the
beautiful Carribean islands and bordering countries like Jamaica, Honduras, Belice and
Mexico. It is always nice to escape a few weeks from our miserable European winter weather and
shorten thus the time until spring. This time it was a rather comfortable jouney on one of the largest
cruise ships actually sailing the seven seas - the Navigator of the Seas. We started our crossing in
Barcelona and finished in Galveston / Texas after 4 weeks.
Following are some  impressions of our trip.

XXXXXXX

In March 2013 we returned for a 2nd visit to the beautiful island of
CUBA
My 1st visit took place in 1995. Not much has changed in all these years.
People are still poor but inspite of it remain very friendly towards foreigners.The nice weather
and happy music helps a lot to overcome the actual economical difficulties.
Following are some of the bells and impressions collected.
XXXXXXXX
 I had a chance in January 2013 to visit amazing
MYANMAR.
What a fascinating country and wonderful people -
 always with a smile in the face and so many interesting bells!
Travelling took me in March 2012 for a few weeks to 
beautiful JAVA and marvelous BALI.
=========
 I realized one of my eternal travelling dreams by visiting in 2011
Vietnam and above all CAMBODIA with Angkor Wat.
==========
Between 2010 and 2012 my trips took me three times to fabulous and
incredible INDIA with its fantastic monuments, beautiful country sites,
 friendly and colourful people.
(The North incl. Benares, Agra and Khajuraho)
 Hope to return again one day! 
=============
This trip took me in 2011 to the South of India.
(Madras, Bangalore,Kerala) 
Fabulous, incredible, wonderful.
Words can not describe the beauty of that part of the world.
============
The following images show more bells which I saw during my recent trips to India.
India is certainly one of the most fascinating countries in the world. It is so colourful with largely
poor but happy and friendly people.
This incredible young dancing couple has many bells attached around the ankle. They make a wonderful
sound in accordance with their movements.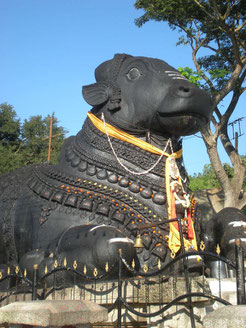 The enormous NANDI bull in Mysore has a chain
 of bells around his neck
and a small bell for worship on the side.
The incredible sculpture is made of a solid rock and
dates back to 1659.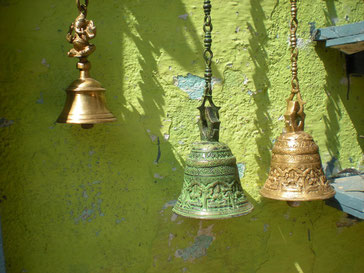 A variety of smaller temple bells.
They can be seen in numerous
 numbers in Indian temples.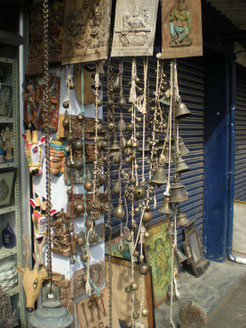 Collection of different types
of Indian bells
in a typical local
antique shop.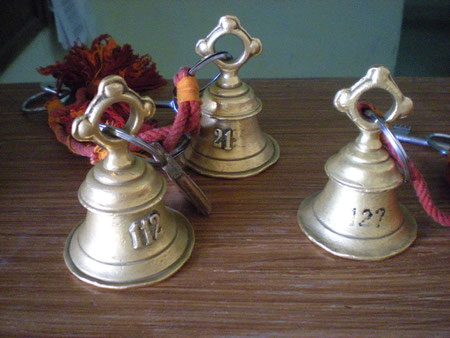 A unique application for bells
 as key holder.
The room nomber is marked
 on each bell.
More bells and colourful people seen during my trip to incredible India in 2010
"The Northern Part 1"
xxxxxxxxxx